We are a community dedicated to the manga Attack on Titan (進撃の巨人 Shingeki no Kyojin?) created by Hajime Isayama, as well as its anime adaptation and all other derivative works. This encyclopedia is written by fans for fans, and everyone is welcome to participate. Edit the articles, upload your photos and videos of the series, comment on our forum or write a blog post. Today is Tuesday, August 14, 2018, and we are editing over 1,917 articles and 4,886 images and videos.
Please be aware, before progressing any further, that this site contains heavy spoilers.
Synopsis
"That day, the human race remembered the terror of being dominated by them, and the shame of being held captive in a birdcage..." — Over 100 years ago, a natural predator of humanity appeared: the Titans, giant humanoid but mindless monsters whose sole purpose of existence seemed to be to devour humans. There was an insurmountable gap in power between them and mankind, and as a result, humanity was rapidly exterminated to the brink of extinction. The survivors responded by constructing three concentric walls: Wall Maria, Wall Rose and Wall Sina, which graced them with a century of peace. However, one day a Colossal Titan far larger than any other seen before breached the outer wall, allowing the smaller Titans to invade the human territory and forcing the survivors to retreat to the inner walls. Eren Jaeger, a boy whose mother was eaten during the invasion, vowed to wipe every last Titan off the face of the Earth, and joined the military determined to exact his revenge.
Featured Article
Flegel Reeves (フレーゲル・リーブス Furēgeru Rībusu?) is the son of Dimo Reeves, and the current boss of the Reeves Company.
---
Flegel accompanies his father and his father's associates to kidnap Eren Jaeger and Historia Reiss. Upon arriving at the warehouse where the two are being kept, the group is ambushed by members of the Scout Regiment, and Flegel is incapacitated.
Read the full article here.
More featured articles >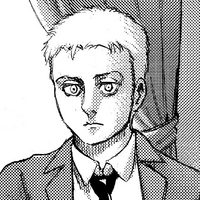 Connie Springer (コニー・スプリンガー Konī Supuringā?) is a member of the 104th Training Corps. He ranked 8th in class, and hails from the rural Ragako village within Wall Rose, his greatest ambition being to make his family and village proud of him. Upon graduation, he joined the Survey Corps.
---
Connie signs up as a new recruit in the 104th Training Corps with hopes of eventually joining the Military Police Brigade. On his first day of training, he is severely punished for saluting his instructor with the wrong hand.
Later that day, Connie joins his fellow trainees in watching Sasha Blouse complete her punishment for eating during initiation. After learning that Eren Yeager is from Shiganshina District, he joins the other trainees in questioning Eren about his first-hand experiences with Titans. During his vertical maneuvering equipment training, Connie proves to be adept, and is one of the first people Eren asks for advice on how to operate it. Connie proves to be no help, claiming that he is just naturally talented.
Read the full article here.
More featured articles >
Latest Release
Trust (信頼 Shinrai?) is the 41st episode of the Attack on Titan anime. It was produced by Wit Studio and Production I.G.
---
Hitch Dreyse and Marlo Freudenberg are caught by Squad Levi and agree to help them bypass a Military Police checkpoint. Meanwhile, Hange Zoë rescues Flegel Reeves and with his help she is able to publicly expose the cover-up used by the Interior Squad to accuse the Scout Regiment of murdering Dimo Reeves.
In Capital Mitras, Gerald interrogates Erwin Smith, but does not learn what the Scout Regiment knows. Nile Dawk arrives to tell Erwin about his audience with the King, and how they will announce his sentence then. Erwin warns him that he left something up to Dot Pyxis and when it happens, it will be up to Nile and "them" to decide.
Read the full summary here.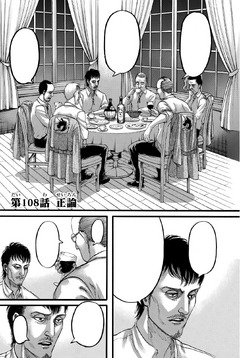 A Sound Argument (正論 Seiron?) is the 108th chapter of the Attack on Titan manga, written and illustrated by Hajime Isayama.
---
The MPs discuss Historia's unplanned pregnancy with a commoner working at her orphanage, that had forced them to change their plans of immediately devouring Zeke. One MP believes Yelena had persuaded Historia, and the volunteers have something planned. Around that time, Jean, Mikasa, Armin, and Connie discuss Eren, who suddenly supports Zeke's plan, and who Connie finds to be a completely different person. While Connie angrily says they should be prepared to have to cut him down, Mikasa reminds them of an event from the previous year that showed how much he cares for them.
Last year, while building a train track, Hange brings news that Hizuru had been unable to open up a diplomatic path. They regret other nations unwillingness to see them in a positive light, and Mikasa suggests they should meet them face to face. Later on the train, Eren brings up the topic of finding a candidate for his Titan powers. The former 104th volunteer themselves, but Eren refuses, saying they are too special to him. In the present, Mikasa says Eren is moving forward for their sake, but the others disagree, Jean saying he put them at risk and Armin explaining they may need to have him eaten if he can not be trusted. Gabi and Falco rest by a stream, and fight over Gabi taking off her armbands. They meet another young girl and before Gabi can attack her, are convinced to go to her house. In Marley, Magath briefs the Warriors of Zeke's likely betrayal. He explains that the world has banded together to form a global military alliance that will destroy Paradis Island in six months. Reiner Braun, however, believes Marley should attack immediately, to go against Zeke's expectations.
Read the full summary here.
Join the chat!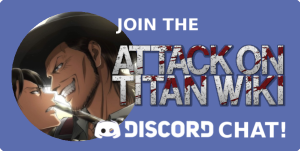 Poll
Episode #41 (August 13th, 2018)
Who is the best Ackerman?
More polls >
Chapter #108 (August 10th, 2018)
Who made the best case for why they should inherit the Founding Titan?
More polls >
Community Activity
Yeah. I'm just going to ask because me I no longer know why I did myself. This glorification of dea…

Read more >

Well seeing how I've never ever been shy of an opinion, I figured I'd go on to share my piece on th…

Read more >

Okay, something I've been curious about, what major, noticeable differences actually exist between …

Read more >
More blogs >
Affiliates
Do you want to affiliate with us? Check out our Affiliate Guidelines.





























Founded on August 7, 2011