We are a community dedicated to the manga Attack on Titan (進撃の巨人 Shingeki no Kyojin?) created by Hajime Isayama; as well as its anime adaptation and all other derivative works. This encyclopedia is written by fans for fans, and everyone is welcome to participate. Edit the articles, upload your photos and videos of the series, comment on our forum or write a blog post. Today Friday, May 26, 2017, we are editing over 1,343 articles and 3,693 images and videos.
Please be aware, before progressing any further, that this site contains heavy spoilers.
Synopsis
"That day, the human race remembered the terror of being dominated by them, and the shame of being held captive in a birdcage..." — Over 100 years ago, a natural predator of humanity appeared: the Titans, giant humanoid but mindless monsters whose sole purpose of existence seemed to be to devour humans. There was an insurmountable gap in power between them and mankind, and as a result, humanity was rapidly exterminated to the brink of extinction. The survivors responded by constructing three concentric walls: Wall Maria, Wall Rose and Wall Sina, which graced them with a century of peace. However, one day a Colossal Titan far larger than any other seen before breached the outer wall, allowing the smaller Titans to invade the human territory and forcing the survivors to retreat to the inner walls. Eren Jaeger, a boy whose mother was eaten during the invasion, vowed to wipe every last Titan off the face of the Earth, and joined the military determined to exact his revenge.
Latest Chapter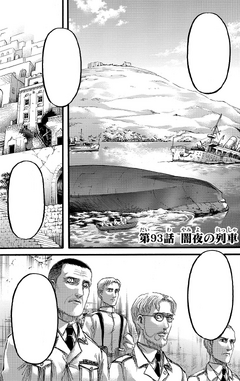 Midnight Train (闇夜の列車 Yamiyo no Ressha?) is the 93rd chapter of the Attack on Titan manga, written and illustrated by Hajime Isayama.
---
After the surrender of the Mid-East Allied Forces, an outraged general demands answers concerning the world's slander against Marley's Titans. Magath explains that the modern age is leaving the power of the Titans obsolete, and Marley's inferior technology leaves them at a disadvantage. Zeke proposes that Marley must acquire the Founding Titan as soon as possible to gain full mastery over the Titans while also focusing on improving conventional weaponry. The general takes Zeke's advice and the meeting concludes. Afterwards, Colt marvels at Zeke's influence in Marleyan matters and wonders at how Zeke is able to use his spinal fluid to create and control Titans despite not having royal blood. As Zeke suggests Colt will inherit a secret upon receiving Zeke's Beast Titan, Magath arrives to congratulate Zeke on his meeting conduct. He reveals to Zeke that in the past three years, many scouting ships sent to Paradis have gone missing. Zeke believes it may be the doing of Eren's Attack Titan and another Titan. Zeke warns that in any future conflicts with Paradis, Marley must watch out for anti-Titan weapons as well as the Ackerman family.
Reiner awakens from a nightmare elsewhere with Galliard at his side. Galliard is cold towards him, feeling that Reiner was responsible for his brother Marcel's death. He says that when he inherited Jaws from Ymir, he could see her memories but not Marcel's. Pieck arrives and tells Galliard to go easy on Reiner, whom she tells to meet with the warrior cadets. Reiner leaves to meet the cadets on the dock, who are watching traumatized Allied soldiers get sent away as a reminder of the Eldians' demonic nature. The children are excited to see Reiner, who sees his old comrades in the faces of the cadets, and together they walk around the town. Afterwards, the Marley soldiers take a train back to their homeland. Colt praises Gabi for her heroic deeds during the battle at Fort Slava, and Falco is bitter to see she will likely inherit the Armored Titan and die an early death. Reiner demands for Falco to correct his views on the power of the Titans, and Falco quickly apologizes. Reiner suggests that if Falco wants to save Gabi, he must work hard to surpass her and inherit the Armored Titan in her place.
Read the full summary here.
Join the chat!
Poll
Episode #33 (May 21st, 2017)
What injured officer do you wish could participate in the mission to rescue Eren?
More polls >
Chapter #93 (May 10th, 2017)
Who do you think the 9th Titan could possibly be?
More polls >
Forum Activity
Recent Blog Posts
I think that I may be not the only one that has a gut feeling on the fact that maybe Isayama may pu…

Read more >

I would have thought Hange being female in the anime would have sealed it plus its said she had a c…

Read more >
Affiliates
Do you want to affiliate with us? Check out our Affiliate Guidelines.





















Anime and Manga Hub
Spring Season 2017 Anime Wikis

TV Anime


Multiseason


TV Shorts


Movies


OVA / ONA / Special

Founded on August 7, 2011
Ad blocker interference detected!
Wikia is a free-to-use site that makes money from advertising. We have a modified experience for viewers using ad blockers

Wikia is not accessible if you've made further modifications. Remove the custom ad blocker rule(s) and the page will load as expected.