We are a community dedicated to the manga Attack on Titan (進撃の巨人 Shingeki no Kyojin?) created by Hajime Isayama, as well as its anime adaptation and all other derivative works. This encyclopedia is written by fans for fans, and everyone is welcome to participate. Edit the articles, upload your photos and videos of the series, comment on our forum or write a blog post. Today is Sunday, October 22, 2017, and we are editing over 1,600 articles and 4,101 images and videos.
Please be aware, before progressing any further, that this site contains heavy spoilers.
Synopsis
"That day, the human race remembered the terror of being dominated by them, and the shame of being held captive in a birdcage..." — Over 100 years ago, a natural predator of humanity appeared: the Titans, giant humanoid but mindless monsters whose sole purpose of existence seemed to be to devour humans. There was an insurmountable gap in power between them and mankind, and as a result, humanity was rapidly exterminated to the brink of extinction. The survivors responded by constructing three concentric walls: Wall Maria, Wall Rose and Wall Sina, which graced them with a century of peace. However, one day a Colossal Titan far larger than any other seen before breached the outer wall, allowing the smaller Titans to invade the human territory and forcing the survivors to retreat to the inner walls. Eren Jaeger, a boy whose mother was eaten during the invasion, vowed to wipe every last Titan off the face of the Earth, and joined the military determined to exact his revenge.
Featured Article
Attack on Titan: Lost Girls (進撃の巨人 LOST GIRLS Shingeki no Kyojin: Lost Girls?) is a novel and compilation of three stories written by Hiroshi Seko, a scriptwriter for the Attack on Titan anime. The first two stories, "Lost in the Cruel World" and "Wall Sina, Goodbye" are based on the visual novels of the same names, released on the Blu-ray copies of the anime. A third story, "Lost Girls", was a new release.

---
LOST GIRLS tells of the times and spaces in between the plot points, through the eyes and ears of the saga's toughest - but more taciturn - heroines. What they thought, and felt, and did on and off stage come to the fore via a medium distinctly suited to conveying interiority: language.
The two novella-length offerings were originally included as bonus features in the initial Japanese Blu-ray released, while the introduction and the titular story are unique to the book. A manga rendering of this official spinoff is slated to appear stateside from Kodansha Comics.
Read the full article here.
More featured articles >
Falco Grice (ファルコ・グライス Faruko Guraisu?) is an Eldian Warrior working for the Marley government and the younger brother of Colt Grice. He is a candidate to inherit the power of the Armored Titan.
---
Falco is not made to be a man of war, and does not excel in the battlefield or at asserting himself. He finds himself wounded and delirious under enemy fire, only to be saved by his brother, and struggles to voice his concerns for his friend Gabi when she proposes a solo attack plan. However, Falco is not a coward. When Gabi is under fire he leaps from their hiding place to rush to her aide and protect her. While he is not an excelling soldier, he posses some margin of skill to have survived for 4 years in the Marley Mid-East War.
Read the full article here.
More featured articles >
Latest Chapter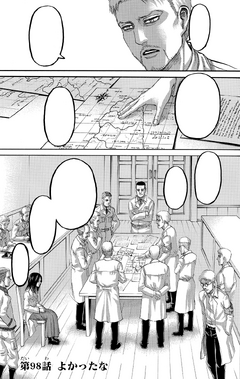 Good to See (よかったな Yokatta Na?) is the 98th chapter of the Attack on Titan manga, written and illustrated by Hajime Isayama.
---
Following a military meeting one month after the war, the Warriors watch the cadets finish a training run, after which Falco admits to Gabi that he has been trying to outrank her for her sake. The cadets later visit the site of Willy Tybur's upcoming stage in Liberio, and nearby Tybur converses with Magath concerning the fate of Marley. In a nearby hospital, Kruger meets Grisha's father.
On the eve of the Liberio festival, Willy announces that he will reveal his plan to solve the Titan problem tomorrow night. The cadets enjoy the festival the next day, and before Willy's announcement Falco leads Reiner aside to meet Kruger. Reiner recognizes Kruger as Eren Yeager in disguise, who is glad to see Reiner has made it home.
Read the full summary here.
Events
| | |
| --- | --- |
| | Happy birthday, Klaus! |
Poll
Lost Girls OVA Announcement (August 7th, 2017)
What is your favorite Season 1 OVA episode?
More polls >
Chapter #98 (October 9th, 2017)
What is Eren's plan for infiltrating Marley and meeting Reiner?
More polls >
Forum Activity
Recent Blog Posts
In my opinion, there is just a bit too much censorship in the anime. One of the selling points of A…

Read more >

Hey Attack on Titan Wiki community!

I'm sure you're aware of FANDOM's editorial site, Fandom.com and…

Read more >

Attack On Titan is my number one anime, the story is so good and most of all. The characters are so…

Read more >
Affiliates
Do you want to affiliate with us? Check out our Affiliate Guidelines.





























Founded on August 7, 2011
Ad blocker interference detected!
Wikia is a free-to-use site that makes money from advertising. We have a modified experience for viewers using ad blockers

Wikia is not accessible if you've made further modifications. Remove the custom ad blocker rule(s) and the page will load as expected.