This article is incomplete.
Please feel free to edit this article to add missing information and complete it.
OVAs
In 847, Eren and Mikasa confusedly watch a brewing fight between Sasha and Jean. Afterwards, he attempts unloading a crate from a wagon however is unable to. Meanwhile, he looks over at Mikasa and she manages to lift three without trouble. Later in the dining hall, Eren advises Jean to be nicer to his mother.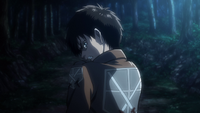 In the year 848, two years before graduation,
Eren
accompanies the other trainees on a wilderness hunt to sustain themselves in times of peace, where he and
Jean
continually get at each other's throats. During this trip,
Krista Lenz
is kidnapped by thieves and Eren assists in rescuing her, helping lead to the criminals' arrest. He is also seen with
Marco
as they contemplate on which military branch they will join.
Spin-off Manga
Spin-off Anime
Live-Action
Ad blocker interference detected!
Wikia is a free-to-use site that makes money from advertising. We have a modified experience for viewers using ad blockers

Wikia is not accessible if you've made further modifications. Remove the custom ad blocker rule(s) and the page will load as expected.