This article is incomplete.
Please feel free to edit this article to add missing information and complete it.


Specifically, it needs English lyrics and Ending Animation.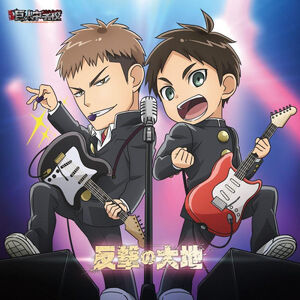 Ground's Counterattack (反撃の大地 Hangeki no Daichi?) is the ending of the Attack on Titan: Junior High anime, and is sung by Yūki Kaji, Yui Ishikawa, and Kishō Taniyama.

Lyrics
TV Size
Hangeki no toki wa kita norikoero sono kabe
Toudai no you ni kibou o tomose

Tousen no chikara koso jiyuu no michi shirube
Tousou no mukou e AUSFALL!

Nigeba mo nakushita kabe no naka
Kousoku to senkou ni toware
Seishun ga fuminijararette
Mirai dake wa tsukamitai

Fujouri na ano koe ni mo ore wa shinai
Yume to kibou kanaeyou to chikatta daichi

Hangeki no toki wa kita mirai o yobu kono chi
Hanzatsu na ruuru subete o ugate

Hanki o ima ageyou kiritatsu sono kabe ni
Hanei o motome AUSFALL!
 
反撃の時は来た 乗り越えろその壁
燈台のように 希望を灯せ

当千のカこそ 自由の道導
闘争の向こうへ Ausfall!

逃げ場も失くした学校(壁)の中
校則と先公二と囚われ
青春が踏み躙られたって
未来だけは掴みたい

不条理なあの声にも折れはしない
夢と希望叶えようと誓った大地

反撃の時は来た 未来を呼ぶこの血
煩雑な規律すべてを穿て

反旗を今揚げよう 切り立つその壁に
繁栄を求め Ausfall!
Ending Animation
Video Clips
Characters in Order of Appearance
Ad blocker interference detected!
Wikia is a free-to-use site that makes money from advertising. We have a modified experience for viewers using ad blockers

Wikia is not accessible if you've made further modifications. Remove the custom ad blocker rule(s) and the page will load as expected.