This article contains heavy SPOILERS. Continue at your own risk, or use the icons above (if any) to switch to another version of the page without spoilers.

CONTINUE
It's natural to feel some doubts sending hundreds of troops to their likely deaths when the core of the strategy is uncertain, but I can understand where Commander Pixis is coming from.
— Gustav empathizes with Armin's concerns[2]
Gustav (グスタフ Gusutafu?) is a member of Garrison and one of Dot Pixis' escorts, the other being Anka Rheinberger.
Appearance
He is a tall young man with a solid build. He has combed brown hair and dark brown eyes. He wears the typical Garrison uniform.
Personality
Gustav is portrayed as a stern, quiet individual. He seems respectful to his fellow soldiers such as Armin Arlert, which can be seen when he listens to his plans and takes his opinion into consideration.[3]
Story
Gustav is one of Dot Pixis' escorts, the other being Anka Rheinberger. He comes in time with Pixis to stop
Eren Yeager
from being executed. Dot Pixis creates a team to formulate a plan to recapture
Trost
, Gustav is included in that team. He later hears a plan from Armin and states all the risks. He tells Armin that if the central part of plan remains unknown, then it is like leading soldiers to their death.
[3]
He is later seen telling the commander about the soldiers who had been "lost" during their mission. Commander Pixis replies that they had not died from being lost, but because he had ordered them to do so and would gladly accept punishment of a mass murderer if mission fails.
[4]
Gustav is accompanying Pixis when the advance unit reports back that there is no breach in the Walls, and informs them of Reiner Braun and Bertolt Hoover's true identities as the Armored Titan and the Colossus Titan.[5]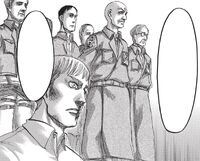 Gustav attends the trial to determine Erwin Smith's fate alongside Pixis. When Anka Rheinberger falsely reports that the Colossus and Armored Titans have breached Wall Rose, Gustav begins to mobilize with the rest of the Garrison, only to be halted by the royal officials present, who order that all refugees be barred from entering Wall Sina. He then watches as the officials are forcefully detained by Darius Zackly's forces.[6]
References