'Attack on Titan' Profile: Miche Zacharius
Miche Zacharius was a section commander and trusted member of the Scout Regiment. He was considered humanity's second strongest soldier after Levi.
Only when a person stops fighting do they lose. As long as we continue to fight, we are not beaten!
— Miche expresses his resolve[2]
Miche Zacharius (ミケ・ザカリアス Mike Zakariasu?) was a section commander (分隊長 Bun-taichō?) of Squad Miche, a major division of the Scout Regiment. A trusted Scout, he was considered humanity's second strongest soldier after Captain Levi.[2] Miche had a remarkably good sense of smell, which allowed him to detect Titans from great distances.[1]
Appearance
Miche was a tall and well-built man. The bangs of his blond hair were parted down the middle, and he had a dark mustache and beard. Similar to his commander, Miche was almost always seen wearing a serious, calm expression. He was typically seen dressed in the standard Scout Regiment uniform but also wore the Scout Regiment's signature green cape during expeditions.
Personality
Miche was an acknowledged leader with a brave heart and a tactical mind. He was a loyal member of the Scout Regiment and an adamant vanguard for mankind's freedom. During times of ease, Miche was shown to be a quiet man, rarely speaking unless it concerned a more serious matter. He also had a bizarre habit of "sniffing" people when he met them. Fellow section commander Hange Zoë claimed he was a very capable leader, despite this strange habit which she noted probably meant nothing.[3] However, Miche did succumb to extreme terror and cowered in front of the talking Beast Titan moments after his legs were brutalized by a smaller Titan. Even in the face of death, he was able to regain his composure for just a moment of fighting resolve before being devoured alive amidst his own horror and tears.
Story
In the year 844, prior to the fall of Wall Maria, Miche served as a member of the Scout Regiment under Erwin Smith's command when the latter was still a Section Commander. As one of Erwin's most trusted comrades, Miche took part to the capture and the recruitment into the Scout Regiment of Levi and his friends. During the mission, he teams up with Erwin to get Levi and is the first to attack him but is quickly defeated.[4] Erwin eventually comes to attack their target. When he is disarmed, Miche intervenes, stopping Levi's gesture and telling him to look at his friends, who were captured by Erwin's squad members.[4] After that, Erwin interrogates the trio, and, seeing none of them was willing to cooperate, Miche begins the physical threats by hitting Levi's head against the ground.[4]
After the rain during the second part of the expedition outside the Walls ceased, Miche and Erwin manage to find Flagon's squad, only to learn a group of Titans killed most of the group before being slaughtered by Levi. When the latter attacks Erwin, Miche goes to help him but is ordered by Levi not to intervene. As the two discuss about Lovof's document, Miche worries about Erwin bluntly explaining all his plan to Levi. Eventually, Levi calms down and the three men leave to join the rest of their comrades.[5]
Miche takes part in the Scout Regiment's 49th Expedition. During the expedition, Miche's sense of smell alerts him that Titans are near by, causing the scouts to mobilize their defenses.[6]
Having little introduction at first, Miche is formerly introduced by Hange Zoë while they, and some Military Police soldiers, escort Eren Jaeger to the military court room for his trial. During this time, he takes a few moments to sniff Eren and then smirk, much to Eren's confusion. Hange explains that he, like herself, is a highly qualified section commander in the Scout Regiment and that his strange habit of sniffing others likely holds no real meaning.[3]
Miche later participates in the Scout Regiment's first attempt at apprehending the Female Titan during their 57th Exterior Scouting Mission. Once she is caught by the special target restraining weapon, Miche, alongside Levi, attempts to carve her out of the Titan's nape but is unsuccessful due to her ability to selectively harden parts of her body. When the Female Titan screams, Miche is able to smell the approaching Titans at a distance and he then tells The Commander that many Titans are coming from all directions.[1]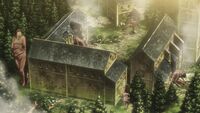 After the battle in Stohess District, Miche and Nanaba are seen with a number of the Scout Regiment's members from the 104th Cadet Corps. During this time, Titans unexpectedly appear within Wall Rose. When Nanaba is left distraught by the possibility of Wall Rose being breached, Miche orders her to not give up hope, reminding her that humanity can only be defeated when the will to fight is lost. After ordering the others to escape and warn the surrounding towns, Miche takes on nine Titans by himself in order to buy them time to get away.[2] After leaving on his own, Miche manages to kill five of the Titans before he encounters an Abnormal Titan that worries him due to its disinterest in him and the mass amount of fur on its body, a trait never before heard of in Titans. To his sudden horror, the Beast-like Titan grabs his horse and hurls it towards him, which forces Miche to jump off the roof of the building he was atop. Caught in a nearby Titan's mouth, it attempts to eat him whole and begins crushing one of his legs, snapping it and twisting it around. However the Beast Titan speaks and tells the smaller Titan to halt, as it wishes to question Miche. The Titan ignores the command and continues biting into Miche's leg, but the Beast Titan squishes its head with its hands. It then questions Miche about the weapon around his waist, referencing his 3DMG.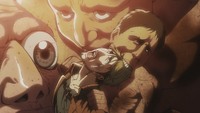 In shock, Miche does not respond, which causes the Beast-like Titan to become impatient, wondering if they speak the same language. The Beast Titan then proceeds to steal his ODM gear as he huddles over in terror. The Beast Titan then promptly orders the surrounding Titans to do as they please with him. Miche tries to fight one last time, remembering his vow to never give up, but it is a hopeless effort. Immobilized and deprived of maneuverability, Miche screams in agony as he is ripped apart by numerous Titans in the process of being devoured. The Beast Titan is amused to know that they do indeed speak the same language after all.[2]

Abilities
Sense of smell
His olfaction was extremely acute, to the point that he could detect approaching Titans far before they were in visible range.[2]
Miche Zacharius's Statistics [7]:
Miche was extremely skilled with ODM gear, able to take out several Titans without the aid of any other Scout Regiment members. His combat prowess was considered to be second only to Levi's.[2]

Relationships
Erwin Smith - Miche and Erwin had a deep mutual trust due to their lengthy time in service together, as well as having respect for one another's skills as soldiers. For much of his service, Miche was by Erwin's side serving as his right-hand man.[8] Even after all their years together, Miche considered Erwin difficult to read, but followed his commands loyally, regardless.[9]
Trivia
Miche was noted by Hange to have a strange habit of greeting new people by sniffing them, and then smirking to himself. He demonstrated this the first time he met Eren Jaeger.
Miche was one of the few Erwin trusted with the true objective of the 57th Expedition, being a veteran who had served prior to the destruction of Wall Maria.
Hajime Isayama revealed that Miche is older than Erwin.[10]
References