The Trost District (トロスト区 Torosuto-ku?) is a town located on the south edge of Wall Rose. Because Trost is the town closest to the breach in Wall Maria, it is the town that most frequently comes under attack from Titans.
Story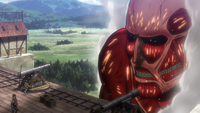 Five years after the fall of Wall Maria, the Colossal Titan appears again and breaks down the outer gate.[1]
Eren Jaeger attempts to kill the Colossal Titan, but it vanishes before he can reach its nape. After regrouping with the other trainees, he finds out they were too scared by the Titan to help him attack. Evacuation preparations are made as the district is invaded by Titans and the trainees are placed under the command of the Garrison Regiment.[2]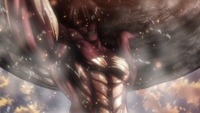 Dividing into teams, the trainees engage the Titans to protect the evacuation, resulting in a large number of casualties. Notable deaths include Thomas Wagner, Mina Carolina, Nack Tierce, Milieus Zeremski,[2] Franz Kefka,[3] Hannah Diament,[4] Tom,[5] Ian Dietrich, Marco Bodt, and Mitabi Jarnach.[6]
Despite the losses, the entire civilian populace successfully evacuates in the hours immediately following the breach, thanks to the efforts of soldiers such as Mikasa Ackermann.[3] This is also the district in which Eren and the other trainees discover his mysterious ability to turn into a Titan.[7] This prompts the Garrison, under the command of Dot Pyxis, to work with Armin Arlelt and devise a plan to seal the breach by having Eren's Titan block it with a large boulder.[8] There are heavy losses getting the plan to work, but Eren successfully blocks the damaged gate with the boulder. Soon after, the Scout Regiment arrives and aids the Garrison in clearing out the remaining Titans.[6]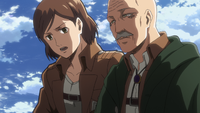 Shortly after the appearance of Titans in Wall Rose, Dot Pyxis naps atop the Wall in Trost until his aide, Anka Rheinberger, awakens him with a slap. They discuss the low number of Titans and he surmises that this is because the Wall has not actually been breached. Erwin Smith arrives shortly thereafter and Pyxis congratulates him for capturing the Female Titan. He hopes that the invasion of Wall Rose will convince the nobles in the interior to reconsider their motives.[9]
One of Pyxis' soldiers reports in, confirming that Wall Rose is still intact. The soldier announces that three Scout Regiment recruits from the 104th Cadet Corps are Titans. The Garrison's advance squad witnessed a fight break out on top of Wall Rose between the Scouts and the Armored and Colossal Titans, but the fight was over by the time they were able to help. Erwin departs with a combined military force consisting of members of the Scouts, Garrison, and Military Police.[9]
After the costly rescue of Eren Jaeger, Erwin Smith recuperates in Trost District where Hange Zoë and Conny Springer brief him on their discoveries regarding Ragako Village and the probable connection between humans and Titans. Erwin smiles, knowing that this knowledge brings them one step closer to the truth.[10]
Trivia
The name "Trost" means "solace" or "comfort" in German.
References