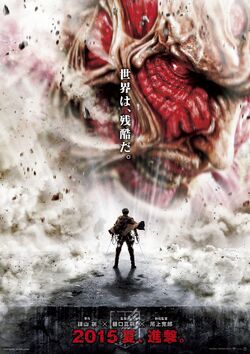 The
first part
of the live-action movie of
Attack on Titan
premiered on August 1 in Japanese theaters
, but here in the Americas were waiting for the release date of the movie in our theaters. Now, FUNimation has announced the screening dates for both the first part and
End of the World
in US and Canada.
Like in Japan, the movies will screen one month apart, with Part 1 screening in a limited theatrical release on September 30, October 1 and October 7, and Part 2 airing three weeks later on October 20, 22 and 27.
Pre-sale tickets for both movies will go up for purchase later this month ahead of the screening engagements and an email signup for is provided on the official website for updates on tickets and participating theaters.
"Fan reaction to Attack on Titan was extremely positive at the world premiere and we're pleased to be able to announce dates for the theatrical releases in September and October," said Gen Fukunaga, CEO and President of FUNimation Entertainment, in a press statement. "Attack on Titan is a worldwide phenomenon and we are excited to bring the live action movies to not only fans of the manga and anime but also horror fans as well from across the U.S. and Canada."
Below you can enjoy the new US version of the trailer for both movies:
Ad blocker interference detected!
Wikia is a free-to-use site that makes money from advertising. We have a modified experience for viewers using ad blockers

Wikia is not accessible if you've made further modifications. Remove the custom ad blocker rule(s) and the page will load as expected.